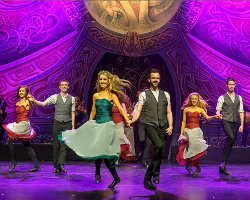 Rhythm of the Dance
When
Occurs on Wednesday March 22 2017
Approximate running time: 2 hours
Venue
Performance Notes
×
This incredible live show celebrates the rich history of Ireland and the art of Irish dance, from the disciplined Celtic Step to the sensual, ancient Sean Nos dance style.
"Rhythm of the Dance" creates a new era in Irish entertainment, presenting world champion dancers, a traditional Irish band, and the handsome Young Irish Tenors. Internationally rated as one of the most popular and successful Irish Step Dance shows on tour, by critics, audiences, and millions of fans around the world.
Attila Glatz Concert Productions (USA) Inc. is proud to be the sole 2017 promoter of Rhythm of the Dance in Canada and NE USA. This dance and music extravaganza contains a wealth of Irish talent and features members of The National Dance Company of Ireland. The show is an inspiring epic, reliving the journey of the Irish Celts throughout history. Using modern art forms of dance and music, this richly costumed show marries the contemporary and the ancient. Combining traditional dance and music with the most up to date stage technology, the show is a thousand year old story executed with all the advantages of the modern day stage show. Rhythm of the Dance has heralded a new era in Irish entertainment, internationally rated as one of the most popular and busiest Irish step dance shows in the world.