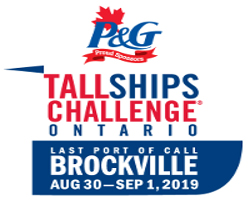 Tall Ships 2019 - Passport
When
Saturday, August 31 2019 - Sunday, September 1, 2019
Venue
Performance Notes
×
Tickets to board the ships at the Tall Ships® Festival are in the form of a Passport booklet and include these benefits:
Grounds admission, deck tours aboard all ships, and access to all land based activities and entertainment. Offerings include nautical demonstrations, competitions, vendors, entertainment, instructional seminars, re-enactments, historic encampments and more. The Passport includes a page for each ship with details and facts, and will be stamped as you visit each one, making it a great souvenir from the event. (Please be advised that the Empire Sandy will be offering specialty sail outs during the festival and will not be available for deck tours. If you wish to board this ship we advise purchasing tickets to either a day sail out or dinner cruise)
Price: $15, tax is included. (online orders are subject to additional fees)
Children 5 and under are free but will not be issued a Passport.
If you purchase a Festival Passport you do not need to purchase a general admission wristband – but you will need to show your passport to access the grounds.
Any tickets/passports purchased after August 15, 2019 will need to be picked up at the Brockville Tourism Office.
Brockville Tourism Office 10 Market St. West Brockville, Ontario
Keep in mind that only 12,000 passports will be available for sale so we advise purchasing them in advance.
Is the festival and Accessible venue? Yes and there are accessible facilities on site. See the map on this page: http://www.tallshipsbrockville.com/location-information/ The majority of the festival grounds can be accessed with a wheelchair or walker, but be advised that much of the area is grassy. Are the ships accessible? There is no wheel chair access to get on to the ships and there are no accessible washroom facilities on board. The only way to get aboard the ships is by a wooden ramp and the pitch of the ramp varies depending on the size of the ship (larger ships have steeper ramps). If you are unsteady on your feet and require assistance boarding we advise bringing someone with you to help you board.