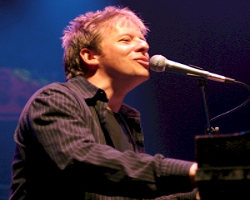 STILL ROCK 'N ROLL TO ME
When
Occurs on Saturday June 22 2019
Approximate running time: 2 hours
Venue
Event Notes
×
Still Rock 'N Roll To Me starts off where "THE PIANO MEN" ended…. Stuck in the 70's! Join Jim Witter on Grand Piano and lead vocals, and his incredible band, on a journey through the 70's …. And into the 80's!
With all new visuals and new songs from Billy Joel & Elton John, "Still Rock 'N Roll To Me" is the perfect sequel to "THE PIANO MEN", Jim's critically acclaimed show, now in its 16th year of touring! The timeless hits of Billy Joel & Elton John as the soundtrack to this adventure, we are taken back visually as news headlines, people, fashion, cars, TV, movies, and pop culture memorabilia are displayed on a giant rear projection screen.
For the duration of the show, we are transported back to another time… another place. Jim's personal memories and easy going on stage presence only add to a remarkable evening of nostalgia. Get ready to laugh, cry, sing along as you travel back in time with JIM WITTER!