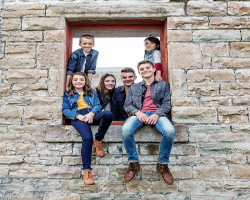 THE NEXT GENERATION LEAHY
When
Occurs on Wednesday December 18 2019
Approximate running time: 2 hours
Venue
Event Notes
×
As with all forces of nature, the music and energy created by The Next Generation Leahy simply cannot be contained. The drive to create music is powerful within each of the Leahy children. It has given rise to multi-instrumental talents, whose dynamic live performances have been described as "astounding" and "breath-taking."
For the last several years, Next Generation Leahy has performed across North America, and shared the stage with the likes of The Chieftains, We Banjo 3, The Tenors, and Natalie MacMaster & Donnell Leahy. With one CD under their belt, they are working on new material for a new CD to be released in 2019.
All 16 years and younger, the siblings are accomplished multi-instrumentalists whose live performances are filled with the high-energy, infectious Celtic-based music associated with their Leahy heritage. Fiddle, cello, French accordion, singing, piano, and French-Canadian step-dancing all find a voice on stage.
The music that lives in each of these young people - which is so joyful, so positive, and so rare – overflows from them and affects audiences who have witnessed something truly unique and remarkable.
The Next Generation Leahy is: Adele – fiddle, piano, cello, step-dance, vocals Gregory – fiddle, accordion, piano, step-dance, vocals, drums Angus – fiddle, piano, guitar, step-dance, vocals Cecilia – fiddle, piano, step-dance, vocals, mandolin Joseph – fiddle, step-dance, accordion, piano, vocals Evelyn – fiddle, step-dance, piano, vocals